The benefits of benchmarking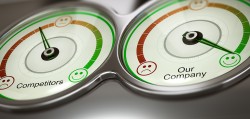 DCA-Markets makes different quotations or reference prices. We make quotations for example of dairy products but also for potatoes, onions, pork, manure, etc.
Parties can benefit from this because they have insight in the price formation process, the price level and the spread of prizes. This insight is for individual parties often difficult to gain and only at high "search costs.". Smaller parties also have more here trouble with this than larger ones. Disclosure of that information ensures that fewer costs are incurred and that parties can negotiate more equally, so that, from a macroeconomic perspective, there is more efficient pricing and better allocation of goods.
That is why the EU Commission Veerman advised that there should be more transparency in agriculture. Because this is good for the sector as a whole and farmers in particular because they are the once who have a information backlog.
Another advantage of quotations and that also true for the larger parties is that they can serve as a benchmark.
Parties can compare themselves with the market (benchmark) and see where they are doing better or where there is room for improvement. The latter point ensures innovation and a culture of constant improvement. Parties that benchmark are the "out performers" of the near future.
Governments are therefore increasingly focusing on price transparency and benchmarking. This is done explicitly from the EU and in the field of agricultural markets. Exactly as former Minister Veerman advised the EU in 2016. You can read more about this in an earlier article from DCA-Markets: DCA-Markets: the-consequences-of-eu price transparency policy
(https://www.dca-markten.nl/nieuws/artikel/46/de-gevolgen-van-het-euprijstransparantiebeleid).
Are you curious how we as DCA approach and guide the above? Or would you like to 'spar' with us about it using benchmarks in your "supply chain". Then call 0320 269 523 or mail to contact@dca-markets.com.