PAT index: bespoke benchmark for potatoes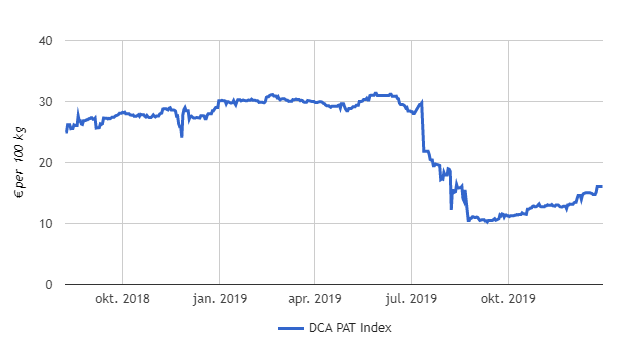 The DCA PAT Index was introduced more than a year ago. It is a common listing of French fries suitable potatoes, based on transactions made in the past week.
These are all actual transactions above 50 tons made by the Association for the Potato Processing Industry (VAVI) and report mandatory the same day to the Arable Farmers Industry. It publishes the transactions on its Platform Aardappelen (Potatoes) Transactions (PAT) which can be followed directly via DCAs Boerenbusiness.nl.
DCA-Markets has developed an index on this that converts all those transactions from different varieties, delivery periods and specifications to an average price for direct delivery of French fries potatoes. This makes the PAT Index a simple and clear gauge of that market.
The methodology is completely transparent and therefore controllable for everyone in accordance with the principles of the Price Reporting Agent (DCA-PRA).
This is a good example of a unique collaboration between the trade association, VAVI and DCA in which the sector is constantly informed about prices paid for French fries suitable potatoes. This is in line with the emphatic desire of the buying-up industry and DCA-Markets to achieve a level playing field between potato processors and producing farmers.
This is also a model agreement for DCA-Markets, commissioned by the sector itself to inform the market on the basis of objective data. This according to principles that are easy to use in other (agricultural) markets.
The index can be followed by everyone (in Dutch) through https://www.boerenbusiness.nl/akkerbouw/aardappelen.
Do you also want to stimulate transparency within your sector? To create a fair and controlled reflection of the market by deploying an independent Price Reporting Agent (PRA). Call 0320 269 523 or email contact@dca-markets.com.