One year DCA Gouda and Edam quotation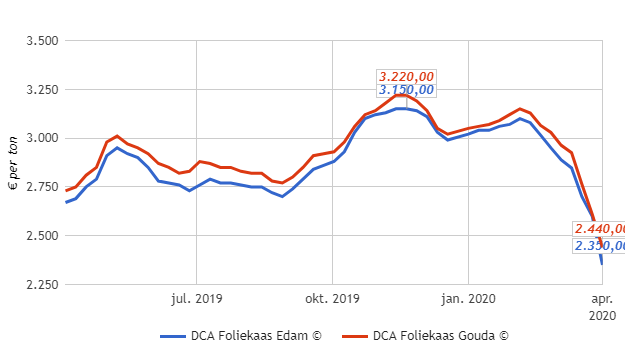 DCA-Markets started recording Gouda and Edam foil cheese a year ago. The first quotation for Gouda was 2,730 euros per ton. Edam started at 2,690 euros per ton. Gouda peaked at 3,220 euros at the end of the year 2019 and Edam was right behind it. Great prices for farmers and producers.
The Corona crisis has caused that the entire valorization of dairy products takes place at much lower prices. Gouda and Edam dropped rapidly to prices around 2,400 euros per ton. No one has anticipated that, but the first year of the DCA cheese quotations is probably the most turbulent ever.

And it is precisely that what makes it so important that price information is available. If there is little trade then few are aware of the market price indication for the product. This creates a lot of uncertainty. And it is precisely then that a price reference is so important. Everyone can then take note of the transactions done and can thus manage their positions and risk. Without that clarity, spreads between supply and demand prices would be much larger, making transactions less likely to occur. And they are necessary to manage the risk.

It is therefore good to note that the quotations for Gouda and Edam came about every week and have been recognized as a good representation of the market in that week. For example, the market has been continuously informed about the options for hedging positions and at what price. Exactly why it is so important that there are Price Reporting Agents the way DCA-Markets are.

Meanwhile, the number of dairy quotations of DCA-Markets has been expanded with quotations for Cheddar, Mozzarella, skimmed and whole milk powders, whey powders, butter. Together with the markings for raw milk, concentrate and cream, the valorisation of milk has been largely visualized.

Are you curious how we as DCA approach and guide the above? Or would you like to spar with us about the use of benchmarks in your "supply chain". Then call 0320 269 523 or email contact@dca-markets.com.