Further explained: NW European Pig index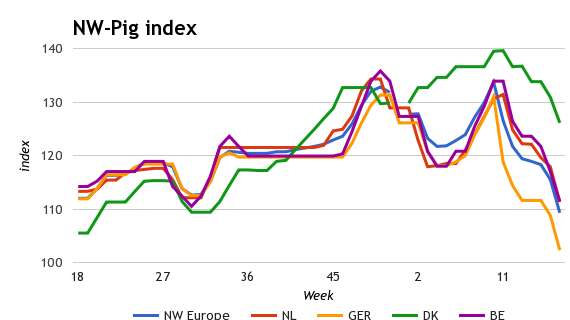 DCA-Markets has been listing the DCA Pig Index NW Europe® since May 25, 2018. This is an index which is compiled with pig prices from Germany, Denmark, the Netherlands and Belgium. The Index was developed in collaboration with Robert Hoste, pig production economist at Wageningen Economic Research.
The aim of the DCA Pig Index NW Europe is to provide more transparency in the market. The Index can therefore also be seen as an objective indicator for various parties in the market (such as pig farmers, traders and slaughterhouses).

Make comparisons

The Index is also calculated separately for each country, so that differences between countries are also made transparent and price levels can be easily compared (without taking into account all kinds of differences such as VAT, quality or currency). The weighting of a country in the DCA Pig Index is determined by the slaughter numbers, as published annually by Eurostat.

The most relevant call prices are taken per country. For Germany these are the quotations of Tönnies (37%), VEZG (26%), Vion Germany (19%) and Westfleisch (18%). Denmark is then Danish Crown (88%) and Tican (12%). The Netherlands is made up of quotations from Vion (38%), DCA Stock Price 2.0 (25%), Van Rooi (21%) and Compaxo (16%). For Belgium, these are Danis (50%) and Belgium Porc Group (50%).

Base year

As the 'base year' for the Index, the period 1 January 2013 to 1 January 2018 has been chosen. This gives the Index a good indication of how pig prices are currently comparing, compared to the average over the past 5 years. When the Index is above 100 points, the price is higher than the average price in the period from 2013 to 2018.

The DCA Pig Indices of the relevant week, as they apply on Thursday, are continuously calculated on the basis of the current pig prices. The Index is then published during the week. The closing position of the week in question is determined on Friday. In addition, a history up to 2010 has been calculated retroactively.

Last 52 weeks
The accompanying graph shows that pig prices have risen sharply in the past year and are now falling sharply again. It is also striking that the Danes have seen their price level rise sharply compared to the other countries. The German index appears to be at the forefront of the price correction in recent weeks and currently appears to be hit harder than the other countries.

Do you want to periodically inform customers about developments in your market? Or do you need your own indices or benchmarks? Then call +31 320 269 523 or email contact@dca-markets.com.