Duch milk price comparator updated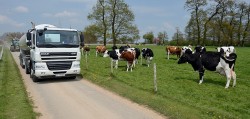 The DCA Milk Price Comparator has been the leading comparator of milk prices that dairy farmers receive from dairy processors for more than ten years. The comparison is made on the basis of the basic milk price: the price that is received as standard without additional requirements for the milk. This basic milk price is based on the prices for fat and for protein with a standard delivery of 1 million kilograms of milk per year. These prices are compared and put into a table. Dairy farmers can vary volume, fat and protein content and thus find out the price they can receive for their product from the various processors.
Standard seasonal surcharges apply to some milk processors. That is why DCA also records a continuous average price over the past twelve months. In order to make the comparison over a whole year.
To achieve comparability, everything is recalculated to a certain standard: the benchmark. That benchmark has changed considerably over the years. Following the trend of more volume and higher fat and protein levels. Not long ago, the volume has increased to 1 million kilograms of milk per year. Now DCA-Markets has increased the fat percentage from 4.41% to 4.42% and the protein percentage from 3.47% to 3.57%. This follows the market.
Dairy farmers can receive supplements on the basic milk price. For Vlog, for example, or other quality requirements or quality marks.
The milk price comparator also has a comparison based on the maximum milk price. That is the price that belongs to the program with the highest requirements and therefore also the most price supplements for the dairy farmer. This way he or she can also see what the highest price he or she can get from different milk processors.
DCA-Markets will continue to monitor and expand these markets. It is also possible to use DCA-Markets' expertise and to use its independence to make customized price comparators. For the Belgian milk market, for example, or for another agricultural product such as pigs or feed, etc. Would you like more information about this? Please contact Tim Vrolijk by mail
contact@dca-markets.com
or by phone 0320 269 523